Business Insurance Basics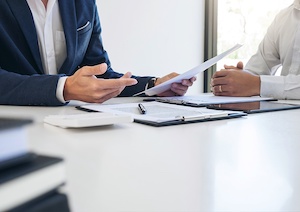 1. What Is an Insurance Agreement? What Is Risk in Context With Insurance?
Insurance is a contracted agreement, where the insurer takes on the risk of a financial loss incurred by the insured. The insurer provides the assurance that the loss will be covered and the insured is who receives the protection. In the insurance context, risk is the event that causes financial loss that will not occur.
2. What Is the Law of Large Numbers?
The law of large numbers is a statistical concept where an insurer's assessment of the size and how many losses of a large group of people over a period of time. This concept helps predict the magnitude of future losses that may arise on the part of the insured.
3. What Are Some Similarities and Differences Between Commercial and Personal Insurance?
Personal insurance is insurance that insures individuals and their belongings, liabilities and interests. Personal insurance can be a life or help insurance policy, which can be obtained with a job. Or even, property insurance obtained as one purchases a car, home, or rental property. Constrastily, business insurance applies to commercial property and its risks. Business insurance can insure people, but the property that is involved has a commercial risk. If you own an apartment complex property, your intent and interest is different than if you owned a home. Thus, the differing interests and intents of a property designate business insurance.
4. What Is an Insurer-Insured Relationship?
To clarify, the insured is the person who is covered against any risk. The insurer provides the coverage. This is a service that the insurer will provide based on an insurance policy that the insured paid for. The insurer-insured relationship begins when an insurance application is filed by the insured.
5. What Are Some Common Types of Business Insurance?
Commercial General Liability Insurance is a common type of business insurance. A business's insurance policies are generally provided by coverage from the commercial general liability (CGL) policies. These general policies insure the business against risks, where the insured could potentially cause injury or damage to a third party. This is known as third party coverage. This is different from first-party coverage, where coverage is given to the insured's own property. There are two types of protection provided by CGL policies. The first being indemnity coverage and defense coverage. Indemnity (aka liability) coverage can pay for a third party for injury or damage that the insured is legally liable for. A defense coverage policy is also included. This coverage allows the insured to be appointed an attorney to defend the insured in a lawsuit. Before a suit can be filed, the insurer investigates the claim.
6. What Is Commercial Property Insurance?
Commercial property insurance intends to provide the insurer with specific requirements that provide the insurer with information about the value and potential risks to the property. The risks are known in the policies and provide the basis for the grant of coverage. Commercial property insurance protects a business property against weather conditions, fire, explosions, and common damage-related occurrences.
7. What Is Surplus Lines Insurance?
Surplus lines insurance is also known as "excess and surplus lines". Supply line coverage is coverage used to fill a void. This means that supply line coverage protects a business when the protection is not available in an admitted market. An admitted market follows and abides by state and federal legislation, and has been approved. However, an unadmitted market is where the insurance company has not been approved. Thus, the surplus lines insurance covers those unadmitted market risks.
8. What Are Umbrella and Excess Insurance?
An excess insurance policy provides an additional amount of coverage when an underlying policy has been exhausted to a specified situation, such as death or major injuries. Excess insurance does not increase the coverage, but it acts as an added layer of protection. This policy is not invoked until the limits of the actual insurance policy are reached, so the excess policy acts as a supplemental. An umbrella insurance policy provides further protection than the existing insurance policy. This type of policy provides insurance for injury, or property damage. Umbrella policies insure risks that are not addressed in the primary policy. Basically, it acts as an "umbrella" that covers the insured's gaps within their insurance policy.
9. What Is Errors & Omissions Liability Insurance?
Errors & Omissions (E&O) coverage covers errors or omissions that a professional has made. This includes representatives like lawyers, doctors, real estate professionals, architects, etc. This type of coverage is limited in the fact that it will only apply if negligence has been committed by these professional representatives. A feature of the E&O is that they provide claims made coverage, which means that they are triggered by a claim in a policy rather than a occurence.
10. What Is Directors & Officer Insurance?
A Directors & Officer (D&O) insurance provides protection for corporate directors and officers from lawsuits that have to do with the corporation itself. D&O policies provide entity coverage, which protects the corporation from the wrongdoing of its officers and directors. D&O policies are claim-based, so they are triggered when a certain claim is made during the policy period.
11. What Is Cybersecurity Insurance?
Cybersecurity coverage is an insurance product that covers the costs and risks from breaches with computers and network security. In the case that a cybersecurity issue has arisen, the cybersecurity insurance would cover the aftermath. Companies that deal with large sets of data, and sensitive financial or health material would benefit from cybersecurity insurance.
12. What Is Fidelity Insurance?
Fidelity or fiduciary insurance will cover the legal liability that comes with claims of errors and omissions when assessing employee benefits. Some more expenses that fidelity policies cover include group life and medical plans. An employer can be exposed to lawsuits because of these employee plans. Thus, having fidelity insurance liability policies in an employer's insurance plan can provide benefits to companies and entities, and those that administer pension plans.
Client Reviews
Address
Business Hours: Monday - Friday: 8:30 am - 5:30 pm (Email or Text for After Hours Availability)

Atlanta Office
3340 Peachtree Rd #2570
Get in Touch
Fill out the contact form or call us at
(770) 285-8008
to schedule your consultation.
Proficiency, Honesty, and Efficiency

Aggressive Representation

We Fight for You!