Meet the Face Behind Nemat Law Firm LLC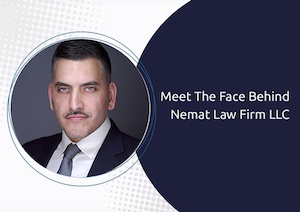 I'm Sasan Nematbakhsh, the proud owner of Nemat Law Firm LLC. I look forward to sharing my story. I hope that you will enjoy getting to know me better.
Ever since I can remember, I have been a people person and have enjoyed helping people. I received my bachelor's of Science in Biochemistry from Kennesaw State University and am a graduate of Georgia State University College of Law, 2016.
I founded Nemat Law Firm LLC in 2017, which specializes in real estate acquisition, real estate development and finance, civil litigation, and investment immigration. I am also a mediator, and the Past Chair of the Dispute Resolution Section of the State Bar of Georgia.
In the five years since I started my own law practice, we have grown exponentially, adding many more happy clients to our tally and cementing ourselves as a resource our clients can depend on when the going gets tough.
I take the responsibility of offering sound, honest advice, and the most informed legal services incredibly seriously and strive to always be there for my clients. My business philosophy is based on proficiency, efficiency, and integrity.
As an individual, I believe what sets me apart from others is my commitment to my mission, vision, and values.
I attribute my success to dedicating my life to serving others and following my dreams.
All the kind reviews and client referrals have given me immense satisfaction over the years.
I have a few different hobbies and interests when I am not at work. However, I most enjoy hiking, swimming, and fitness.
I have enjoyed sharing my story about the things which matter to me and how they influence the way I do business.
If you or someone you know could benefit from our business and real estate law expertise, I invite you to get in touch. We pride ourselves on our family-style approach and our ability to break down complex legal problems into easily identifiable legal solutions and strategies. We are experienced in handling complex transactions and litigating and resolving complex disputes. Our services include real estate and business legal services, civil litigation, arbitration, and mediation services. Please visit our website at www.nematlawfirm.com for more information.
Sincerely,
Sasan
Client Reviews
Address
Business Hours: Monday - Friday: 8:30 am - 5:30 pm (Email or Text for After Hours Availability)

Atlanta Office
3340 Peachtree Rd #2570
Get in Touch
Fill out the contact form or call us at
(770) 285-8008
to schedule your consultation.
Proficiency, Honesty, and Efficiency

Aggressive Representation

We Fight for You!